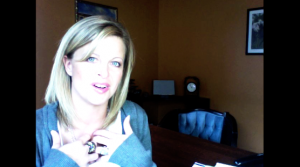 ~~~~~~~~~~~~~~~~~~~~~~~~~~~~~~~~~~~~~~~~~~~~~~~~~~~~~~~~~~
This week's video blog discusses how we are constantly training other
people how to treat us by how we respond to them.
Watch the video below to find out how to effectively teach others how to
we expect and deserve to be treated by focusing on setting boundaries
and communicating them.
It doesn't do us any good to focus and dwell on how horribly someone is
treating us.  Instead, we need to look at our boundaries and how we are
allowing them to get crossed.
This was a huge lesson for me and the more I apply this shift in focus, the
better all my relationships are and the happier I am as a person.
If you liked this video, please share it with others, so they can get some
helpful relationship tools as well.
Thanks so much for watch and have a great week!
~Edie Kay