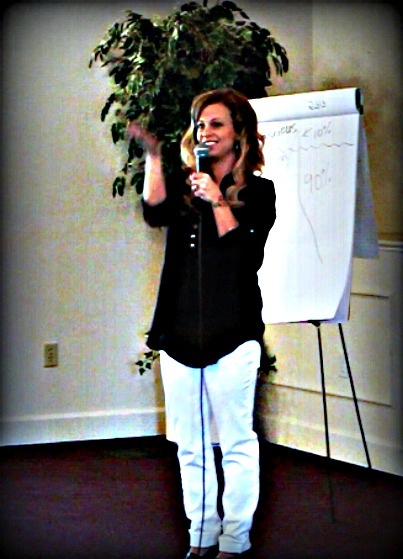 My speaking style is informal, energetic and fun.
I have a natural and engaging presence and can connect very
quickly with your audience.
Topics I typically speak on include:
Work/Life Balance (I don't actually believe there is such a thing)


Successful Goal Setting

Interpersonal Relationship Success

Mindset/Programming

Communication/Conflict/Navigating Different Personalities
Program Titles and Descriptions:
"Transforming Life Spectators into Starting Players"
In this program, participants are introduced to the idea of "programming" – installed, limiting beliefs we've adopted from infancy-on, and that we operate on habitually and unconsciously.
Because the majority of our programming was negative or limiting, our daily habits of thought and action are sabotaging our success and happiness.
This program helps participants uncover their limiting programs and then instructs individuals how to de-bug and reprogram their "autopilot" for maximum success and happiness.
Presented are simple techniques and advice for transforming individuals who feel stuck and helpless into unstoppable, success magnets!
The program is interactive and personable.  Participants are taught the core habits that keep people motivated, engaged and excited about life, and that lead to greater health, wealth, and happiness.
Videos:
Here is a quick clip of a seminar I recently gave on goal setting and mental "programming":
Below is a short video of a presentation I gave on "Mindset" and "Navigating Personalities"
To make initial contact, e-mail my office by clicking the envelope icon below.