Group Coaching Program with Edie Kay
Simple Steps to FINALLY Create the Life You Want and Deserve
Dear Friend,
If you have been looking for a way to DRAMATICALLY improve your life and level of happiness, but you don't know how to get started, or how to get up enough confidence to go after what you really want, than this opportunity will be extremely valuable to you.
Are you tired of settling? Are you ready to finally step into what you're capable of and take some massive action?

If this is you, I want to invite you to apply for my next Group Coaching Program.
THE CURRENT GROUP COACHING PROGRAM IS CLOSED. IF YOU WOULD LIKE TO APPLY FOR THE NEXT PROGRAM OPENING IN SEPTEMBER, PLEASE FILL OUT THE APPLICATION BY CLICKING ON THE "LET'S DO THIS" BUTTON AT THE END OF THIS PAGE.
(Click the Video Image Below to Hear a Personal Message from Edie)
Here are the logistics:
8 GROUP Coaching/Training Sessions – These sessions are conducted weekly over the phone so you can participate from anywhere
8  LIVE (and INTENSE!) GROUP Q&A Phone Meetings (Troubleshooting, accountability, laser coaching with Edie)-These sessions are also conducted weekly over the phone
4 PRIVATE 1-on-1 Coaching Sessions – These private sessions are just you and me over the Phone or Skype.  This is where we get laser-focused, create your custom, strategic action plan and get to the nitty-gritty of re-structuring your personal environment.
Exclusive Access to a PRIVATE FB Forum for this group only. Once you are enrolled, you will be invited to participate in a private Facebook Group forum with the me and the other participants in the program.  You'll use this to connect, ask for feedback, get support from other members, brainstorm, share ideas and celebrate successes throughout the program.
3 Personal and Private "Body Talk" sessions with Heather Strang (also conducted over the phone). I worked with Heather earlier this year and was BLOWN AWAY at the transformations I got from just the first session!  I immediately knew I needed to incorporate this into my program.  Massive shifts will happen when you couple the work we do together with these "Body Talk" sessions and I'm so excited to offer this to you. These sessions with Heather are included in the program at no additional cost to you.  You will be scheduling these three calls directly with Heather.
All training and Q&A calls will be recorded for those who cannot participate live, or for those who want to go back and re-listen.
There will also be additional "surprise" bonus materials and gifts during the program that you will LOVE!

For things to change, you have to be willing to take ACTION.
If Not Now…when?
Here's What this Group Coaching Program will do for you:
Help you figure out EXACTLY what you want and get STRATEGIC about going after it.
Show you how to use Personal Responsibility and Choice as your most powerful tool
Help you determine your quickest and most fun path
Uncover limiting beliefs that are getting in your way
Create NEW mindsets for success and happiness
Eliminate energy drains and time wasters (Things AND People)
Set clear boundaries and strong standards
Upgrade Your Skills and Uplevel Your Confidence
Provide the Accountability and "Butt Kicking" You Need to Stay on Course
Track Your Progress and Celebrate Your BIG Wins
Does It Work?
The work we do in this program is based on the SAME 5-Part methodology that has worked not only for me, but for hundreds of other individuals who have used it to reach their goals and achieve what they most want in life. Here's some feedback from some of my past clients: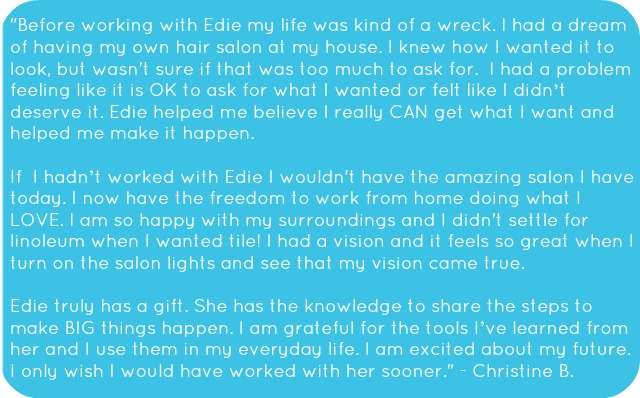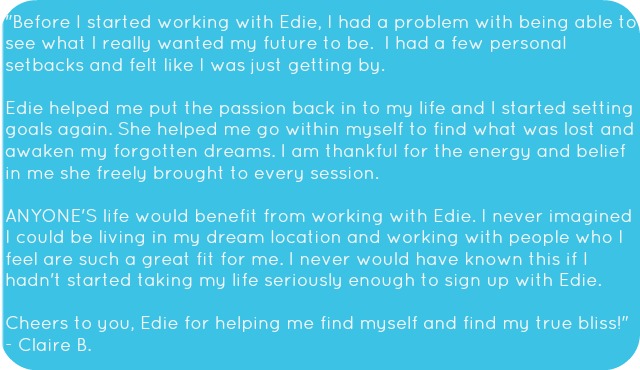 And one of my all time favorite testimonials…

How Much?
The Total Retail Value for this Group Coaching Program is over $4300 – YOU Pay only $1497
Payment is due upon enrollment, and your spot in the program won't be held until payment is processed.
Here's What You Need To Do Next
If this Group Coaching Program seems like a fit for the life changes you are ready to make, click on the "Let's Do This" button below and fill out the application.
WARNING: I only coach people that are 100% ready to go after their ideal life.  Period.  Not maybe.  Not when it's easy. But Right now. So if you just want to "talk about" or wish for a better life, this isn't gonna be a good fit for either of us.
But, if you ARE ready, then let's do this.
~ Edie Kay
(Click the button below and fill out the application on the next page to schedule your interview with me.)