Personal Coaching with Edie
Simple Steps to FINALLY Create the Life You Want and Deserve
Dear Friend,
If you have been looking for a way to DRAMATICALLY improve your life and level of happiness, but you don't know how to get started, or how to get up enough confidence to go after what you really want, than this opportunity will be extremely valuable to you.
Are you tired of settling? Are you ready to finally step into what you're capable of and take some massive action?

If this is you, I want to invite you to work with me as your coach.
Here are the logistics:
I coach clients three times per month for a minimum of three months (this allows us to go deep and make lasting life changes versus quick-fix "bandaid" solutions).  This is where we get laser-focused, create your custom, strategic action plan and get to the nitty-gritty of re-structuring your personal environment.
Sessions last 60 minutes and are conducted easily over the phone or on Skype.  This allows us to work together no matter where you happen to live and saves you time, stress and money.  If you live in the Centralia/Chehalis, Washington area and are interested in in-person sessions, let me know.
For things to change, you have to be willing to take ACTION.
If Not Now…when?
Here's What this Coaching Program will do for you:
Help you figure out EXACTLY what you want and get STRATEGIC about going after it.
Show you how to use Personal Responsibility and Choice as your most powerful tool
Help you determine your quickest and most fun path
Uncover limiting beliefs that are getting in your way
Create NEW mindsets for success and happiness
Eliminate energy drains and time wasters (Things AND People)
Set clear boundaries and strong standards
Upgrade Your Skills and Uplevel Your Confidence
Provide the Accountability and "Butt Kicking" You Need to Stay on Course
Track Your Progress and Celebrate Your BIG Wins
Does It Work?
The work we do in this program is based on the SAME 5-Part methodology that has worked not only for me, but for hundreds of other individuals who have used it to reach their goals and achieve what they most want in life. Here's some feedback from some of my past clients: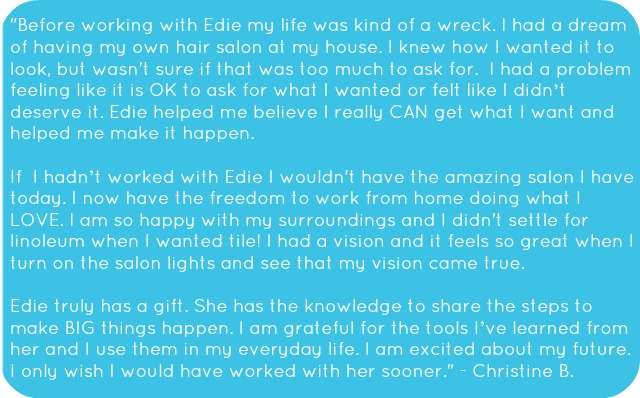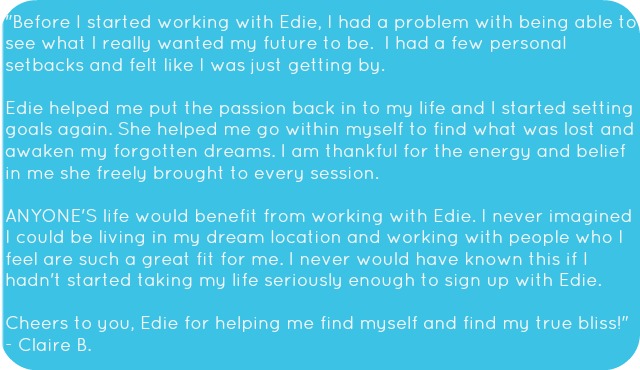 And one of my all time favorite testimonials…

How Much?
This 3-month coaching program is $1200 if paid in full, or it can be split into three monthly payments of $425.  This includes three powerful 60-minute sessions each month and personal email support between sessions as needed.
I provide anyone interested in coaching a free 30-minute consultation to explore our working together.
Payment is due upon enrollment, and your coaching sessions will begin after payment is processed.
Here's What You Need To Do Next
If this Coaching Program seems like a fit for the life changes you are ready to make, click on the "Let's Do This" button below and fill out the application.
IMPORTANT NOTE: I only coach people that are 100% ready to go after their ideal life.  Period.  Not maybe.  Not when it's easy. But Right now. So if you just want to "talk about" or wish for a better life, this isn't gonna be a good fit for either of us.
But, if you ARE ready, then let's do this.
~ Edie Kay
(Click the button below and fill out the application on the next page to schedule your free consultation with me.)